Jim Cherry Stone has had the privilege of providing natural stone for projects ranging from flowerbeds to shopping malls since 1994. Once you've found the perfect stone which will set apart your home or commercial building, call us and we'll take care of the rest.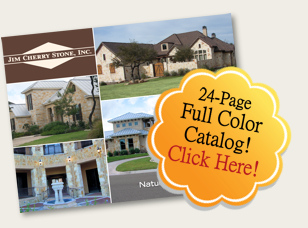 RESIDENTIAL ~ COMMERCIAL ~ LANDSCAPE
Our quarries are situated on a rare limestone deposit that not only supplies us with cream limestone but also the very rare white limestone which is among our most popular stone.

We are confident that after viewing our website you will understand why our stone is unique and called for by designers, builders, and individuals who want to set their projects and homes apart from the crowd.

Download PDF Catalog (56MB) | Request Catalog by Mail


Quarry Direct Natural Texas Stone
See below for just a small sampling of some of the projects we've been entrusted to be involved with.
Click here to view additional photo galleries
or simply select a type of stone or application on the left.
Ready to Get Started? Have Questions?
Regardless of your needs, whether you need natural stone for residential, commerical, or landscaping needs, we're here to help. Simply call us direct at (325) 388-2811 to discuss your project and we'll help you select the right style, cut, color, and size stone you need.